Once you've learned the basics of doing Lo Shu numerology readings, you can do them on a napkin, the back of a business card, or even on the dusty window of a parked car.
But if you're wanting to present Lo Shu in a more professional or serious manner, some specific tools to help with that will make all the difference. That's why I created the Lo Shu Utility Pack; to make readings more fun, convenient, and professional. The coolest thing is, you download and print exactly what you want. No waiting!
Here's what's included:
1. Tick Sheets
I've created two different tick sheets for use with the Lo Shu system -- one that easily fits in a pocket for every day carry, and one a bit larger that's great for parties or other occasions where you know you'll be reading people. Both also have room for promotional text so you can refer them to your web site, etc.
Both tick sheets come as PDF files so you can print them and use immediately. They also come as templates for Microsoft Word and Apple Pages so you can load them up and edit them as needed. When you've tweaked them, save your new version and print them on your home printer or export as a PDF file and take that file to a print shop and have them run off a batch of personalized tick sheets.
Large
The large tick sheet is printed on a single sheet of paper, then folded in half, and in half again to make a good-sized tick sheet that gives you plenty of room to do a reading, add some notes, and even a spot on the back so you can sign and date the reading.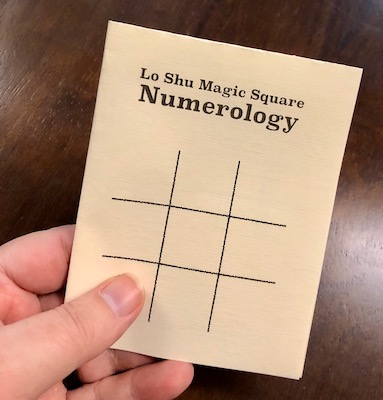 Small
The small business card-sized tick sheet fits in a shirt pocket or a business card case. It's what I always have with me in my shirt pocket just in case I get the chance to do a reading out in the wild. Again, it's something the client can take with them and as it stands up by itself, you'll find people display them on their desks, coffee tables, etc. So make sure you write your contact information on the back for when their friends ask, "Hey, what's that?"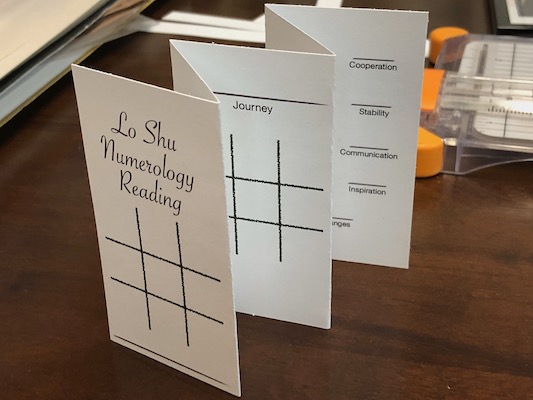 ---
2. Digital Tick Sheet for Tablet/Phone

While paper tick sheets may be preferable for most situations, I always have my phone with me and often have my iPad. So I decided to create a tick sheet for my mobile devices.
It follows the design of the large paper tick sheet and is very easy to use -- just load the tick sheet image into almost any drawing program on your tablet or smartphone and start the reading.
While it's easier to do a reading using a tablet (more screen space) I've done this with my smartphone and in the tutorial video I'll show you exactly how I do that on the smaller screen. And if you don't already have a drawing program on your device, I'll show you some of the free ones available and tell you the features they must have to use for digital readings.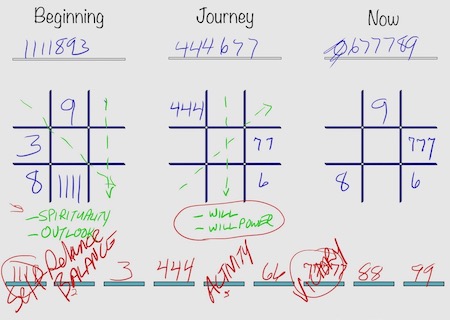 ---
3. E-Sign/Billboard for Tablet/Phone

While I'm not completely a wallflower, I'm also not the kind of person who finds it easy to strike up a conversation with the goal of asking someone if they want a reading.
(Honestly, the thought of it makes me literally break out into a sweat and feel panicky, so maybe I am a wallflower.)
Knowing that about myself I created an animated "billboard" for my iPad that I can set at the end of my table while out at a coffee shop or similar place, and passively "troll" for readings.
Even if you're not shy about asking people if they'd like a reading, this sign can add a bit of professionalism to your setup.
The billboard is a nice-looking, self-playing (and looping) presentation that comes as both a Windows PowerPoint file and an Apple Keynote file and there are two versions -- one for squarish 4:3 screens (such as the iPad) and one for widescreen 16:9 screens, which is typical smartphone size (Apple and Android).
Carry it on your devices and throw it up on the screen whenever you want to make yourself available for readings.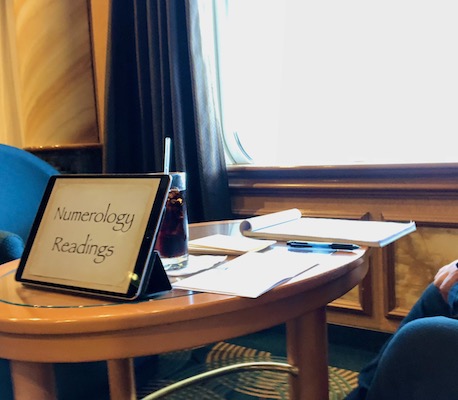 4. Numerology Cards
After putting numerology aside for a while (because life intervened — hard) I went back to it and needed a way to freshen my memory. While making some flashcards I had an idea — why not use the same cards during a reading to give it some variety?
After drawing the arrows on a grid you can then lay out the matching cards as you explain how that meaning applies to the person. It gives a sense of ceremony that goes above just writing on a piece of paper.
Then when going through the third phase (missing numbers or an abundance of numbers) you can lay out those matching number cards as well.
This not only adds some visual depth to the reading, but it acts as a crib sheet right out in the open. There's zero chance that you mix up the meanings for a number because they're staring you in the face. (A nice safety feature when you go long times between readings.)
There are two versions of the number cards — one with the main meaning only, and one with the main plus alternative meanings (I usually use the latter in my readings).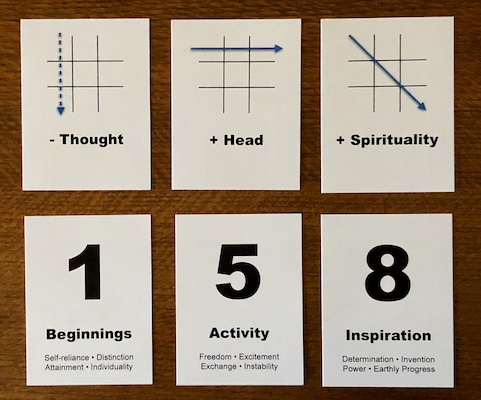 ---
5. Tutorial Videos
While most of the parts in the Lo Shu Utility Pack can be downloaded and just used, I've included tutorial videos for every piece, just for those folks who like to dig into stuff (the nmore details, the better). I also try to include tips on different ways to use the parts that may work better depending on your style of readings.
The tutorial videos are available online and can be watched on desktop computers, laptops, or mobile devices. And while I tell you what you need to know, I don't waste your time -- they are short and sweet.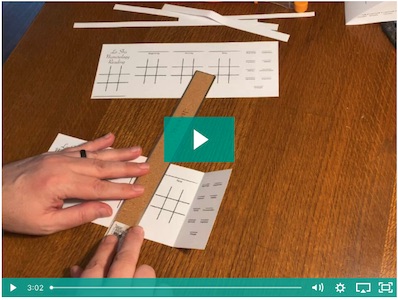 ---
In A Nutshell...
Julian Moore's book is great and helped me learn to do Lo Shu readings quickly — but I wanted a little more and so started putting together tick sheets, and the cards, and the billboard, etc. Everything just kind of grew organically as I continued to do more numerology readings. The more tools I created, the easier and more fun the readings became.
Since it was all useful to me, I thought it might be useful to others and decided to create tutorials and offer it all for a cheap enough price that anybody who wants to do more Lo Shu readings can grab it.
This is a digital product -- that means as soon as you purchase you get access to all the files and videos. Download the files and print them and you're all set. If you don't have a home printer, take the files on a thumb drive to your local Staples or Office Max store -- that's exactly what I do.
The entire Lo Shu Utility Pack with the large and small tick sheets, digital tick sheet, numeric cards, billboard, and tutorial videos is just $20. And while you could spend a few afternoons and mock up your own, grabbing this pack will save you a lot of time. I wish it had been available to me at the time.
Want to do more readings? Want to have more fun with your readings? Want to look like you know what you're doing even if you're quaking inside?
The Lo Shu Utility Pack will help with all that.